The Templatic WordPress Themes Club membership is ideal for any WordPress developer and freelancer that needs access to a wide variety of WordPress themes. This themes collection saves you hundreds of dollars and also gives you the fantastic deal of allowing you to install any of our themes on unlimited domains.
You can see below just a few of our WordPress themes that are included in the club membership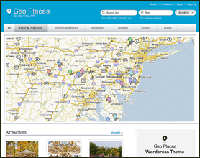 GeoPlaces – Business Directory Theme
The popular business directory theme that lets you have your very own local business listings directory or an international companies pages directory. This elegant and responsive design theme gives you powerful admin features to run a free or paid local business directory or both. GeoPlaces even has its own integrated events section so you not only get a business directory but an events directory too.